Jurassic World: Dominion Dominates Fandom Wikis - The Loop
Play Sound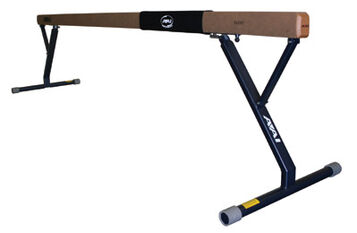 There are several different types of skills that are performed on balance beam. The skill values are according to the 2022-2024 Code of Points.
All GIFs made by One Singular Sensation and Candycoateddoom.
Values
Each element is given a value, which represents how difficult it is. Values are represented as letters A-H, which correspond to how many tenths they're worth.
A = 0.1
B = 0.2
C = 0.3
D = 0.4
E = 0.5
F = 0.6
G = 0.7
H = 0.8
Mounts
A-value
(worth 0.1)
| | |
| --- | --- |
| free leap to one foot | |
| thief vault | |
| flank to rear support | |
| leap to cross split with hand support | |
| squat through to rear support | |
| stoop through to rear support | |
| jump to roll forward | |
| cartwheel through chest-stand to swing down (Mitchell) | |
| jump with bent legs to handstand | |
| jump to side split sit (hand support allowed) | |
| scissor leap over beam to sit | |
| jump with bent arms to chest stand | |
| jump with hand support, ¾ turn in support half split sit on one leg | |
B-value
(worth 0.2)
| | |
| --- | --- |
| squat/ stoop through to clear pike support | |
| jump with half turn to neck-stand, half turn to chest-stand (Silivaş) | |
| headspring/ headkip | |
| press to handstand | |
| swing to handstand | |
| handstand with large arch span | |
| reverse planche | |
| press to side handstand, hop with ¼ turn (Lori Hop) | |
| cartwheel | |
| free aerial walkover to rear support | |
| free aerial layout to rear support | |
| two flying flairs (Lee) | |
| free aerial cartwheel to front support | |
| jump backward through straddle position over the beam to front support | |
| standing with back to the beam, jump backward to side split on beam with hand support | |
C-value
(worth 0.3)
| | |
| --- | --- |
| two flank circles followed by a flair (Baitova) | |
| free jump to cross split | |
| neck roll with 1½ turns | |
| walkover forward through handstand | |
| jump to handstand to handspring | |
| jump/ swing/ press to handstand with full turn | |
| jump/ swing/ press to handstand, lower to planche | |
| jump/ swing/ press to handstand, lower to clear pike support | |
| jump/ swing/ press to handstand, half turn to swing down sidewards | |
| jump with stretched hips to planche (Shushunova) | |
| jump/ swing/ press to handstand, shift to one-arm handstand | |
| jump with half turn to handstand | |
| jump with half turn to handstand to back hip circle | |
| round-off, jump with half turn to back hip circle (Gurova) | |
| front tuck salto | |
| round-off, flic flac | |
| round-off, back handspring (flic flac) swing down to cross sit | |
| change leg leap to free cross split sit - diagonal approach to beam (Dick) | |
| flic flac to grasp beam in chest stand | |
D-value
(worth 0.4)
| | |
| --- | --- |
| switch-split leap mount | |
| three flying flairs (Homma) | |
| jump/ swing/ press to handstand, full turn, lower to planche (Hand-Li) | |
| jump/ swing/ press to handstand, full turn, lower to clear pike support | |
| jump/ press to side handstand walkover to both feet (Phillips) | |
| jump/ press on one arm to handstand (Rankin) | |
| handstand, shift to one arm, lower to clear straddle support on one arm | |
| round-off, back handspring (flic flac) with full twist to swing down (Tsavdaridou) | |
| round-off, back handspring (flic flac) with full twist | |
| change leg leap with half turn to free cross split sit - diagonal approach to beam (Dick II) | |
| flic flac with half turn to grasp beam in chest stand (Soares) | |
E-value
(worth 0.5)
| | |
| --- | --- |
| round-off, back tuck salto | |
| round-off, back pike salto | |
| round-off, layout step-out salto | |
| front pike salto | |
| round-off, back handspring (flic flac) with full twist to back hip circle (Zamolodchikova) | |
| round-off, layout salto to two feet | |
F-value
(worth 0.6)
| | |
| --- | --- |
| salto forward tucked with half turn (Wong) | |
| round-off, Arabian walkover (Dunn) | |
| round-off, tuck back salto with full twist (Garrison) | |
| jump forward with half turn to back salto | |
G-value
(worth 0.7)
| | |
| --- | --- |
| round-off, Arabian salto (Erceg) | |
| roundoff, back layout salto with full twist | |
Acrobatics
A-value
(worth 0.1)
| | |
| --- | --- |
| forward roll without hand support | |
| forward walkover (Tinsica) | |
| forward walkover with the support of one arm | |
| walkover forward, backward (Tic-Toc) | |
| walkover backward | |
| walkover backward with the support of one arm | |
| walkover backward with swing down to cross sit | |
| cartwheel without flight phase | |
| cartwheel with flight phase | |
B-value
(worth 0.2)
| | |
| --- | --- |
| free shoulder roll without hand support (Garrison roll) | |
| backward roll to handstand | |
| sideward roll tucked | |
| sideward roll through neckstand | |
| walkover backward with stoop through of one leg | |
| walkover backward from extended tuck sit (Valdez) | |
| cartwheel from extended tuck sit to sit back down on the beam | |
| round-off | |
| handspring forward | |
| back handspring (flic flac) step-out | |
| back handspring (flic flac) step-out with the support of one arm | |
| back handspring (flic flac) to two feet | |
| Gainer back handspring (flic flac) | |
| Gainer back handspring (flic flac) swing down to cross straddle sit (Korbut) | |
| back handspring (flic flac) with tuck swing down to cross straddle sit (Chen) | |
| side straddle roll with grasp under the beam to finish in sit position | |
C-value
(worth 0.3)
| | |
| --- | --- |
| back extension | |
| Valdez with full turn | |
| Valdez swing through horizontal plane with one arm support (Garrison) | |
| back handspring (flic flac) with half twist after hand support | |
| back handspring (flic flac) with ¼ twist to handstand | |
| back handspring (flic flac) with pike swing down to cross straddle sit (Rueda) | |
| front tuck salto with take-off from one foot | |
| tuck back salto | |
| pike back salto | |
| Gainer tuck back salto | |
| Gainer layout step-out salto | |
| back layout step-out salto | |
| Gainer flic-flac with ¼ twist to handstand (Honti) | |
| back hip circle | |
| sideward roll stretched | |
D-value
(worth 0.4)
| | |
| --- | --- |
| back handspring (flic flac) in side position to back hip circle (Yurchenko loop) | |
| back handspring (flic flac) with full twist before hand support (Kochetkova) | |
| back handspring (flic flac) with ¾ twist to handstand (Omelianchik) | |
| jump from side position with half twist to handstand (Kolesnikova) | |
| back handspring (flic flac) with step-out in side position (Tousek) | |
| Gainer back handspring (flic flac) with full twist (Khorkina) | |
| back handspring (flic flac) with full twist swing down to cross straddle sit (Rulfova) | |
| free aerial cartwheel | |
| free aerial walkover forward to one foot | |
| free aerial walkover forward to two feet | |
| front tuck salto with take off from two feet | |
| front pike salto with take off from one foot | |
| front pike salto with take off from one foot to land in arabesque (Liukin) | |
| tuck side salto | |
| piked side salto | |
| aerial cartwheel with leg change (Gardiner) | |
| jump backwards with half twist to walkover forward with step-out (Onodi) | |
E-value
(worth 0.5)
| | |
| --- | --- |
| Onodi to two feet (Worley) | |
| back handspring (flic flac) in side position with full twist to back hip circle (Teza) | |
| free aerial round-off | |
| front pike salto with take off from two feet | |
| layout back salto to two feet | |
| aerial cartwheel across beam (Colussi) | |
| salto sideward tucked take-off from one leg with half turn to side stand (Schaefer) | |
F-value
(worth 0.6)
| | |
| --- | --- |
| jump forward with half twist to salto back tucked (Maaranen) | |
| jump forward with half twist to salto back piked (Produnova) | |
| tucked Arabian salto | |
| tuck back salto with full twist | |
G-value
(worth 0.7)
| | |
| --- | --- |
| layout back salto with full twist | |
Turns
A-value
(worth 0.1)
| | |
| --- | --- |
| full turn on one foot | |
B-value
(worth 0.2)
| | |
| --- | --- |
| 1½ turn on one foot | |
| full turn in tuckstand | |
| half illusion turn | |
C-value
(worth 0.3)
| | |
| --- | --- |
| full turn in back attitude | |
| full turn with leg at horizontal | |
| full turn with leg in split | |
| 1½ turn in tuckstand | |
D-value
(worth 0.4)
| | |
| --- | --- |
| 1¼ back spin (Li Li) | |
| double turn on one foot | |
| 1½ turn with leg at horizontal | |
| double turn in tuckstand | |
| illusion turn | |
| full turn with free leg held backward and upward (Preziosa) | |
| 1½ turn with leg in split | |
| 2½ turn in tuckstand | |
E-value
(worth 0.5)
| | |
| --- | --- |
| triple turn on one foot (Okino) | |
| double turn with leg at horizontal (Wevers) | |
| triple turn in tuckstand on one foot (Mitchell) | |
| double turn with leg in split (Sugihara) | |
Leaps & Jumps
A-value
(worth 0.1)
| | |
| --- | --- |
| stag leap | |
| straddle jump from side stand | |
| pike jump | |
| cat leap with half turn | |
| wolf hop | |
| wolf jump | |
| leap with leg change to wolf | |
| sissone | |
| Shushunova with ¼ twist | |
B-value
(worth 0.2)
| | |
| --- | --- |
| split leap | |
| split jump | |
| straddle jump | |
| split jump in side position with bending of rear leg (Henrich) | |
| straddle jump with half turn | |
| Fouette hop with half turn to land in arabesque | |
| cat leap with full turn | |
| wolf jump with half turn | |
| ring jump | |
| stag ring jump | |
| Shushunova with ¾ twist | |
| Shushunova with full twist | |
C-value
(worth 0.3)
| | |
| --- | --- |
| straight jump with full turn | |
| split jump with half turn | |
| tuck jump with full turn | |
| straddle jump with full turn | |
| switch split leap | |
| switch leap with ¼ turn to straddle (Johnson) | |
| pike jump with full turn | |
| straight jump with 1½ turn | |
| tuck jump with 1½ turn | |
| sheep jump | |
D-value
(worth 0.4)
| | |
| --- | --- |
| Tour Jete | |
| split jump with half turn from side stand | |
| straddle jump with half turn from side stand | |
| split jump with full turn | |
| wolf jump with full turn | |
| split ring leap | |
| split jump with body arched and head dropped (Yang Bo) | |
| butterfly | |
| switch split leap with half turn | |
E-value
(worth 0.5)
| | |
| --- | --- |
| Johnson with half turn | |
| split leap with full turn | |
| Yang Bo from side stand (Teza) | |
| switch split ring leap | |
Dismounts
A-value
(worth 0.1)
| | |
| --- | --- |
| front salto tucked | |
| front salto tucked with half twist | |
| Gainer tuck back salto off the side of the beam | |
| tuck back salto | |
| stretched back salto | |
B-value
(worth 0.2)
| | |
| --- | --- |
| front salto stretched | |
| aerial walkover forward with full twist | |
| Arabian front | |
| Gainer stretched back salto with full twist off the side of the beam | |
| Gainer tuck back salto off the end of the beam | |
| tuck back salto with full twist | |
| stretched back salto with full twist | |
| free aerial cartwheel with ½ twist | |
C-value
(worth 0.3)
| | |
| --- | --- |
| aerial walkover forward with 1½ twist | |
| front salto tucked with full twist | |
| front salto stretched with full twist | |
| front salto stretched with 1½ twist | |
| Gainer stretched back salto with double twist off the side of the beam | |
| Gainer pike back salto off the end of the beam | |
| Gainer tuck back salto off with full twist the end of the beam (Kim) | |
| stretched back salto with 1½ twist | |
| stretched back salto with double twist | |
| Gainer stretched back salto off the end of the beam | |
D-value
(worth 0.4)
| | |
| --- | --- |
| front salto stretched with double twist | |
| front salto stretched with 2½ twist | |
| Gainer stretched back salto with 2½ twist off the side or end of the beam (Khorkina) | |
| stretched back salto with 2½ twist | |
| double tuck back salto | |
| Gainer salto straight with full twist from the end of the beam (Steingruber) | |
| Gainer salto tucked with 1½ twist from the end of the beam (Olafsdottir) | |
E-value
(worth 0.5)
| | |
| --- | --- |
| double pike back salto | |
| Gainer salto straight with double twist from the end of the beam (Jurkowska-Kowalska) | |
F-value
(worth 0.6)
| | |
| --- | --- |
| double front salto | |
| Gainer stretched back salto with triple twist off the side or end of the beam | |
| stretched back salto with triple twist | |
G-value
(worth 0.7)
| | |
| --- | --- |
| Arabian double front (Patterson) | |
| double tuck back salto with full twist | |
| double pike back salto with full twist | |
H-value
(worth 0.8)
| | |
| --- | --- |
| double tuck back salto with double twist (Biles) | |