From left: Loredana Boboc, Andreea Răducan, Andreea Isărescu, Claudia Presăcan, Simona Amânar, and Maria Olaru.
These gymnasts were a member of the Romanian gold medal-winning team at the 2000 Olympics in Sydney.
About the Team
From the team in Atlanta, only Simona Amânar continued into Sydney, driven by the bitterness of the bronze medal her team was forced to accept four years ago. Claudia Presăcan was a member of the national team since 1994 and had missed the 1996 Olympics due to injury. Maria Olaru surprised head coach Octavian Bellu by becoming the World All-Around Champion in 1999. Andreea Isărescu, their best bar worker, joined the national team in 1997, while Andreea Răducan and Loredana Boboc joined in 1999. Răducan in particular surprised Bellu by placing fifth in the all-around at the 1999 World Championships. All six girls, apart from Presăcan, were on the gold medal winning team at the 1999 World Championships.
Preliminary Round
This was the first time at the Olympics that no compulsory routines were performed. Instead, every gymnast, even those not part of a team, participated in a qualification round that determined whether or not they advanced to the rest of the competitions. The Romanians competed in the third subdivision, alongside Russia, Ukraine, and Belarus. Their competition began on balance beam, their best event. Boboc, Amânar, Presăcan, Răducan, and Olaru went up to score a 9.657, 9.625, 9.775, 9.675, and 9.787. On floor exercise, Boboc, Olaru, Răducan, Amânar, and Presăcan went up and scored 9.337, 9.575, 9.737, 9.800, and 8.925. On vault, Isărescu, Boboc, Olaru, Amânar, and Răducan went up and scored 9.193, 9.250, 9.625, 9.725, and 9.743. On uneven bars, Boboc, Amânar, Răducan, Isărescu, and Olaru went up and scored 9.550, 9.550, 9.562, 9.625, and 9.225. Romania qualified to the team final in second place behind Russia.
Team Final
During the team final, Romania competed in the second rotational group with the United States. Unlike during the qualifications, their competition began on uneven bars, their weakest event. Boboc, Amânar, Răducan, Olaru, and Isărescu went up and scored 9.475, 9.437, 9.550, 9.525, and 9.687.
On balance beam, their signature apparatus, they built up their scores with a 9.762 from Amânar, a 9.450 from Presăcan, a 9.600 from Boboc, a 9.787 from Olaru, and a 9.837 from Răducan.
The Romanian team moved to floor exercise, where they scored a 9.600 from Isărescu, and 9.687 from Olaru, a 9.700 from Boboc, a 9.775 from Amânar, and a 9.762 from Răducan.
Romania had a comfortable lead over the United States after the third rotation. They finished up their competition on vault, where they scored a 9.400 from Boboc, a 9.575 from Isărescu, a 9.581 from Olaru, a 9.593 from Amânar, and a 9.712 from Răducan.
After vault, the Romanian team waited for China and Russia to finish their last two rotations before the scores were put up. Once the scores became official, Romania won the gold medal.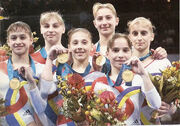 This was Romania's first team gold medal at a fully-attended Olympic Games (their team gold in 1984 was won at an Olympics that the Soviet Union boycotted).
After the Team Final
Four of the team members qualified to other competitions. Răducan, Amânar, and Olaru qualified to the all-around in second, third, and tenth place, respectively. Răducan and Amânar both qualified to the vault (in second and fourth place) and floor exercise event finals (in third and first place). Olaru and Presăcan qualified to the balance beam final in first and second place.
In the all-around, Răducan started on vault, Amânar on uneven bars, and Olaru on balance beam. Unbeknownst to Răducan, the vault was set five centimeters (two inches) too low. This caused many of the major players to fall. However, it did not affect Răducan very much, as she averaged a 9.706 on her two vaults. On uneven bars, Amânar scored a 9.512, while Olaru scored a 9.700 on balance beam. In the second rotation, more athletes continued to fall on the mis-measured vault, including the first place qualifier, Russia's Svetlana Khorkina, while the Romanian girls were on other apparatus. Răducan scored a 9.575 on uneven bars, Amânar scored a 9.662 on balance beam, and Olaru scored a 9.625 after stepping out of bounds on floor exercise. Shortly before the third rotation, when Olaru's rotational group was on vault, the mistake on vault was corrected and the height adjusted. Olaru averaged a 9.656 on vault, while Răducan scored a 9.787 on balance beam, and Amânar scored a 9.812 on floor exercise. Heading into the final rotation, all three Romanians were in the top five in the standings. Olaru scored 9.600 on uneven bars, which put her in the lead. Amânar averaged a 9.656 on vault to take the lead from Olaru. Răducan scored a 9.825 to take the lead from Amânar and win the all-around.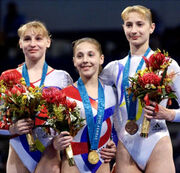 This was the first time since the 1960 Olympics where a team swept the all-around podium.
In the vault final, Amânar went up second. She debuted a new 2½ twisting Yurchenko, which she overrotated and only scored a 9.625. She stumbled on the landing of her second vault and scored a 9.450. She averaged a 9.537. Răducan went up fifth and averaged out to a 9.693. She won the silver behind Russia's Elena Zamolodchikova and ahead of Zamolodchikova's compatriot Ekaterina Lobaznyuk. Amânar finished sixth. In the balance beam final, Olaru and Presăcan performed solidly, scoring a 9.700 and a 9.750, respectively. However, their scores were not high enough to challenge for a medal. Presăcan finished fourth and Olaru finished sixth. In the floor exercise final, Răducan went up second and fell on her third tumbling pass, scoring a 9.275. Amânar performed fourth, and scored a 9.712 despite stepping out of bounds. She won the bronze behind Russia's Elena Zamolodchikova and Svetlana Khorkina. Răducan finished seventh.
Răducan's Doping Charge
Several days after the competition concluded, the IOC announced that Răducan had tested positive for pseudoephedrine, a banned substance at that time. Amânar had also tested positive for Nurofen, but as she was taller and heavier than Răducan, the substance did not register as being over the allowed amount as it had with her younger teammate. Răducan and her coaches maintained that she was innocent, and that as a minor, she had only followed the treatment plan the team physician, Ioachim Oana, had recommended. The night before the competition, she had been given Nurofen, a common over-the-counter medication, to help treat a fever and cough. She also said that the pills had made her feel dizzy instead of helping her in any way.
Despite strenuous appeals from Răducan, her coaches, the Romanian Gymnastics Federation and certain members of the gymnastics community, she was stripped of her gold medal. The gold was re-awarded to Amânar, Olaru was promoted to silver, and former fourth-place finisher Liu Xuan from China was given the bronze medal. Răducan's test samples from the team and vault event finals were clean; she was therefore allowed to keep the medals she won in these competitions. The Romanian team doctor who gave Răducan the drug in two cold medicine pills was expelled from the Games and suspended through the 2002 Winter Olympics at Salt Lake City and the 2004 Summer Olympics in Athens.
Both Amânar and Olaru expressed their belief that Răducan was the deserving all-around gold medalist, as did Liu Xuan, who noted, "I think the all-around champ (Răducan) is very good. I feel very sad and sorry for her that this problem occurred. I can't make sense of it. ... In gymnastics we rely on technique to compete our moves. It's not possibly to rely on drugs or strength, you have to rely on skill." All three declined a formal ceremony when the medals were re-awarded. Following the announcement that Răducan would be stripped of her medal, Olaru and Amânar initially decided to refuse their new medals; however, they changed their minds in order to bring the medals back to Romania. Amânar said of the gold medal, "I didn't win it. It was won by Andreea and belongs to Andreea." She did in fact return the medal to Răducan back in Romania.
Răducan's case was brought before the Court of Arbitration for Sport in late September 2000. While the arbitration panel did concede that Răducan had not gained any advantage by taking the pseudoephedrine, and that she was an underage athlete who had followed her team physician's instructions, they also upheld the IOC's decision. The basis for their decision was the belief that the Anti-Doping Code of the Olympics had to be enforced "without compromise," regardless of the intentions or age of the athlete.
Răducan was exonerated of any personal wrongdoing by the Romanian Olympic Committee, and therefore was not subjected to the sporting ban usually imposed on athletes involved in doping cases. However Ion Ţiriac, the president of the Romanian Olympic Committee (ROC), resigned over the scandal. The Executive Committee of the International Gymnastics Federation (FIG) also unanimously decided not to impose any suspension or punishment on Răducan, taking the stance that losing her medal "was punishment enough for an athlete who was innocent in this situation." The FIG, IOC and ROC all agreed with the punishment and suspension of Dr. Oana, viewing him as the guilty party for administering the banned substance to Răducan and her teammate. Oana was permitted to keep his medical license and was cleared of malpractice by the Deva Physicians' Association, who stated that he had not committed any offense "from a medical perspective".
Despite the controversy, Răducan was still seen as a positive and even sympathetic figure. She received a significant amount of support in Romania, and members of the gymnastics community, including Nadia Comăneci, publicly expressed their support. Upon returning to Romania with her teammates, she was personally greeted and presented with flowers by Romanian President Emil Constantinescu.
Răducan was given a replacement medal in pure gold by a Romanian jeweler; she also received several endorsements and sponsorships. At one point, a Răducan doll was even rumored to be in the works. In addition, the prize money she would have been awarded from the Romanian Olympic Committee for her all-around gold was replaced, and doubled, by a group of Romanian businessmen. She, along with Amanar, was awarded a diplomatic passport by the Romanian government for being a "good ambassador for Romania."
Trending pages
All items (14)
Community content is available under
CC-BY-SA
unless otherwise noted.