From left: Jordyn Wieber, Gabby Douglas, McKayla Maroney, Aly Raisman, and Kyla Ross.
These gymnasts were members of the USA gold medal-winning team at the 2012 Olympics in London. The team was named the Fierce Five (known previously as the Fab Five).
About the Team
With the Americans winning the World title at the 2011 World Championships in Tokyo, expectations for gold were high. Of that team in Tokyo, four of them competed in London: Jordyn Wieber, Aly Raisman, McKayla Maroney, and Gabby Douglas. Wieber was the reigning World All-Around Champion, Maroney was the reigning World Vault Champion, Raisman came from the same gym as 2008 Olympian Alicia Sacramone, and Douglas had upgraded her routines and proved she could contend with the best. The new addition to the team was first-year senior Kyla Ross. Raisman was named captain of the team. Unlike the Magnificent 7 in Atlanta, there were no veterans on the team.
Preliminary Round
The girls performed in the third subdivision of the preliminary round, alongside Canada, Great Britain, and France. Of the four superpower teams, the Americans were the first to compete, with Russia, China, and Romania competing after them. Raisman, Wieber, Douglas, and Maroney competed on vault, scoring 15.800, 15.833, 15.900, and 15.900, respectively. Maroney competed two vaults so she could advance to the vault event final, and averaged a 15.800. On uneven bars, Raisman, Wieber, Ross, and Douglas competed, scoring 14.166, 14.833, 14.866, and 15.333, respectively. On balance beam, Ross, Douglas, Wieber, and Raisman competed, scoring 15.075, 15.266, 14.700, and 15.100. Then, things started to go wrong on floor exercise. Ross went up first and took a large step out of bounds on her first pass. Given that she didn't have a high level of difficulty, she scored a 13.733. Then Douglas went up, and on her second tumbling pass, took several steps out of bounds, scoring a 13.766. Wieber went up third, and also stepped out of bounds on her second tumbling pass, although her step was less significant than Douglas'. She scored a 14.666. Raisman went up last, and was the only one to not step out of bounds. She was rewarded with a 15.325, the highest score on floor exercise of the entire preliminary competition. Despite their mistakes, the Americans finished prelims in first place at the end of the day.
Most of the team had qualified to a few finals. Maroney qualified to the vault final, Douglas qualified to the uneven bars final, Raisman and Douglas qualified to the balance beam final, and Raisman and Wieber qualified to the floor exercise final. Ross qualified to the uneven bars final, but as a reserve athlete, in case one of the qualifiers backed out. Most notably, Raisman, Douglas, and Wieber qualified to the all-around in second, third, and fourth place, respectively. However, due to the FIG's "two per country" rule, Wieber did not advance to the all-around final. This was somewhat controversial, since Wieber was the reigning World All-Around Champion. Wieber left the arena in tears.
Team Final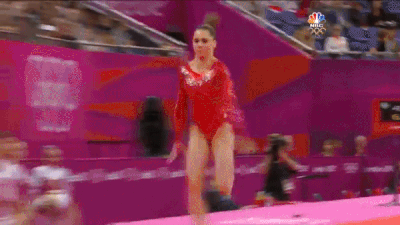 During the team final, the girls competed face-to-face with their biggest competitors, the Russians. Having qualified first to the team final, the Americans went up first on vault in the first rotation. Wieber and Douglas performed their Amanar (2½ twisting Yurchenko) vaults very well, with Wieber scoring a 15.933 and Douglas a 15.966. Then Maroney went up and stuck hers cold. She received a 16.233, the highest score of the night. They finished the first rotation in first place.
On uneven bars, Wieber had a very small error that she covered well and still got a good score: 14.666. Ross and Douglas also hit their routines well, scoring a 14.933 and a 15.200, respectively. Given that bars is the Americans' weak spot, they did a very good job. They were still ahead of Russia after the second rotation.
Ross, Douglas, and Raisman went up on balance beam. Each of them had very solid routines, particularly Douglas who had a tendency to be flaky on beam. Ross scored a 15.133 and Douglas a 15.233. Raisman had a large hop on her dismount, but still scored a 14.933 for her routine. The Americans continued to maintain their lead over Russia.
Unfortunately for Russia, they needed help from the Americans if they were going to win gold. One of their athletes, Maria Paseka, underrotated her Amanar, taking a large step out of bounds. Two more of their athletes, Aliya Mustafina and Viktoria Komova, faltered on their beam routines, Komova almost falling on her dismount. Then they had two disastrous floor routines, one where Anastasia Grishina completely missed her acrobatic series and lost the composition requirement in her start value, and another where Ksenia Afanasyeva fell on her last tumbling passes. The Russians were in tears at the end of their half of the last rotation.
Because the Americans went up first on vault, they went up last on floor exercise. Douglas went up first for the Americans. Having stepped out of bounds on her second tumbling pass in the preliminary round, Douglas was determined not to repeat that mistake. She performed very cleanly, all her passes staying in bounds, and scored a 15.066. Wieber went up next and absolutely sold her routine, performing with a beaming smile, and scoring a 15.000. Raisman went up last. She left out the punch front layout after the Arabian double front on her first tumbling pass (as she only needed to score 10.234 to lock down team gold medal). She performed very cleanly, getting emotional just as she hit her last tumbling pass. She scored a 15.300, the highest score on floor exercise of the night, winning the United States their second Olympic team gold medal.
After the Team Final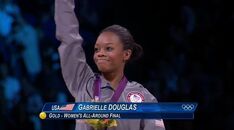 In the all-around, Raisman and Douglas both started off strong on vault, taking the top two spots heading into the second rotation. Raisman had a solid bars routine, but her low start value impacted her score and dropped her in the standings. Douglas had an excellent routine that kept her in first place. Then on beam, Douglas performed very well, getting the highest score on beam of the night, while Raisman almost fell and had to grab the beam to stay on. Douglas and Raisman both performed well on floor exercise. Raisman originally tied for the bronze with Russia's Aliya Mustafina until a tie breaker was induced and the bronze was awarded to Mustafina. Douglas won the all-around ahead of Mustafina's compatriot Viktoria Komova.
In the vault event final, Maroney went up seventh. She scored a 15.866 on her first vault, but fell on her second. She took the silver behind Romania's Sandra Izbasa. In the uneven bars event final, Douglas went up last. She had an error on one of her pirouettes, which resulted in a low score of 14.900. She finished eighth. In the balance beam event final, Douglas performed fifth. She had a few balance checks and a fall, resulting in a low score of 13.633. Originally, Raisman scored a 14.966 until her coach filed an inquiry about her score. Her appeal was accepted and her
score was adjusted to a 15.066, tying her for the bronze with Romania's Catalina Ponor. A tie breaker was then induced and Raisman was awarded the bronze. Douglas finished seventh. In the floor exercise final, Wieber performed second. She had a stumble on her first tumbling pass and stepped out of bounds on her second pass. She scored a 14.500. Raisman performed third and scored a 15.600, her highest score on floor of the entire Olympics, and won the gold medal. Wieber placed seventh.
The US wound up with five medals: three gold, one silver, and one bronze. Raisman and Douglas joined Shannon Miller as the only Americans to win two gold medals at a single Olympics.
At the 2013 U.S. National Championships, the team was inducted into the USA Gymnastics Hall of Fame. By October 2014, with Kyla Ross winning a team gold medal at 2014 World Championships, they were the only Americans to have won both Olympic and World team gold medals. They were later joined by Final Five members Madison Kocian and Simone Biles.
Media Appearances
The team has appeared on numerous talk shows including The Today Show, The Late Show with David Letterman, The Colbert Report, and The Ellen Show, and introduced Alicia Keys at the MTV Video Music Awards. They also participated in the Kellogg's Tour of Gymnastics Champions from September 8 to November 18 with the rest of the National team. On the tour, Raisman and Maroney became injured performing on the uneven bars a few weeks in. Raisman's injury was not as serious as Maroney's, so she was able to continue on the tour. Maroney had to withdraw for most of the tour. Ross also withdrew from the tour to go back to school. Ross and Maroney returned for the last tour date in Brooklyn, New York. After the conclusion of the tour, the team appeared on a float in the Macy's Thanksgiving Day Parade.
Maroney and Douglas both booked guest starring roles on TV shows. Maroney earned herself a three-episode guest spot on Hart of Dixie (episode 2x07: "Baby, Don't Get Hooked on Me", episode 2x13: "Lovesick Blues", and episode 2x17: "We Are Never Ever Getting Back Together"). Douglas filmed her guest spot on The Vampire Diaries. Her episode, "My Brother's Keeper" aired on November 29, 2012. Maroney also appeared as a judge for the Miss America pageant. In April 2013, Maroney and Wieber appeared in the music video for "Up in the Air" by 30 Seconds to Mars. In September 2013, Douglas was a guest judge on So You Think You Can Dance. In November 2013, Maroney filmed a guest spot on the crime drama Bones. Her episode, "The Spark in the Park", aired on December 6th.
"Not Impressed" Meme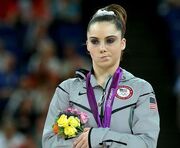 During the medal ceremony for the vault final, Maroney was photographed, unsmiling during the Romanian national anthem (left), which became an internet meme named, "McKayla is not impressed". Maroney has gone along with the joke, posting a picture on Instagram of herself with Raisman and Ross, all making the "not impressed" face upon finding out the swimming pool they wanted to go to was closed. Maroney has called the meme "pretty funny", and has said that she apparently makes the face without noticing until her teammates point it out to her.
Dancing With the Stars
The girls appeared twice on the fifteenth season of Dancing With the Stars. The first time was a behind the scenes clip when Shawn Johnson and Derek Hough came to see them on the Kellogg's Tour during week 4. The second time was during the finale, when the girls helped Johnson dance her "super-sized" freestyle, incorporating elements from the Kellogg's Tour such as the Olympic rings and dancing the "Party Rock shuffle".
In February 2013, Raisman was announced as a cast member for the sixteenth season of Dancing With the Stars. Her professional parter was Mark Ballas, who was Johnson's original partner in season eight. She finished fourth.
All items (14)