From left: Simone Biles, Gabby Douglas, Laurie Hernandez, Madison Kocian, and Aly Raisman.
These gymnasts were members of the USA gold medal-winning team at the 2016 Olympics in Rio de Janeiro. The team was named the Final Five (since the U.S. National Team Coordinator, Marta Karolyi, was retiring after the Olympics).
About the Team
Of the Fierce Five from the 2012 Olympics, only Gabby Douglas and Aly Raisman were able to return for a second Olympics. Simone Biles burst onto the scene in 2013, and maintained a steady stream of dominance for the three years leading up to the Olympics. She became the first gymnast to win three consecutive World All-Around titles, and won a grand total of fourteen World medals, ten of them gold. Those three would be joined by Madison Kocian, two-time World team champion and the current World Uneven Bars Champion, and first-year senior Laurie Hernandez, who placed second in the all-around at the Olympic Trials. Raisman, captain of the Fierce Five in London, was named captain of this team as well.
Preliminary Round
The Americans competed in the fourth subdivision, the last of the superpower teams to compete, starting on floor exercise. Douglas went up first, and had a small error, stepping out of bounds and scoring a 14.366. Hernandez went second to score a 14.800, followed by Biles, who scored a 15.733. Raisman anchored floor to score 15.275. On vault, Hernandez went first and scored a 15.200, followed by Douglas, who scored a 15.166, and Raisman, who scored a 15.766. Biles went last, scoring a 16.000 for her Amanar and 16.100 for her Cheng. Hernandez sat out the uneven bars, so Raisman could compete the all-around, Raisman went first, scoring a 14.733, followed by Biles scoring a 15.000, Douglas scoring a 15.766, and Kocian a 15.866. On balance beam, Douglas went clean, scoring a 14.833. Raisman had a fairly big balance check, but equaled Douglas' score of 14.833. Hernandez scored a 15.366 and Biles closed the Americans' qualifications with a 15.633.
The Americans qualified first into the team final, almost ten points ahead of China. Individually, Kocian and Douglas qualified for the uneven bars final, Hernandez for the balance beam final, Raisman for the all-around and floor exercise final, and Biles for the all-around, vault, balance beam, and floor exercise finals. Douglas had also qualified for the all-around but was the third-highest scoring American, and was bumped due to the two-per-country rule.
Team Final
Following qualifications, Hernandez was used on vault instead, of Douglas, who only contributed on one event. The Americans started off strong on vault, scoring a 15.100 for Hernandez, 15.833 for Raisman, and 15.933 for Biles. Biles started off the team on uneven bars, scoring a 14.800. That was followed by a 15.766 from Douglas and a 15.933 from Kocian. On beam, Raisman went first, scoring a 15.000, followed by Hernandez, scoring a 15.233. Biles went last, and despite a balance check on her acrobatic series, scored a 15.300. They went out with a bang on floor exercise, Hernandez scoring a 14.833, Raisman a 15.366, and Biles capping off the night with a 15.800. Following the confirmation of their win, the team announced their nickname: the Final Five. There were two reasons behind the name: the first being that this was U.S. National Team Coordinator Marta Karolyi's last Olympic Games, and the second being that the following Olympics would only allow four members per team.
After the Team Final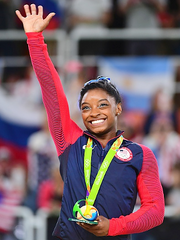 In the all-around, Biles and Raisman started on vault. Raisman had a hop on her landing (15.633) and Biles a large step (15.866). They still lead the standings (Biles in first, Raisman in second) heading into the second rotation. Both hit their bar routines, but their low start values caused them to drop in the standings, Biles to second (14.966) and Raisman to fourth (14.166). They rebounded in the next rotation on balance beam, Biles scoring a 15.433 and Raisman a 14.866. They closed the competition on floor exercise, competing one right after the other. Raisman went first, performed extremely well, and scored 15.433. After missing out on an all-around medal at the last Olympics, she became very emotional upon completion of her routine, crying and waving to the crowd. Biles was the last competitor on floor, nailing her routine to score a 15.933. Biles also became emotional when her score came up. Biles became the first reigning World All-Around Champion to become Olympic All-Around Champion since
Lilia Podkopayeva
in 1996 and the fourth consecutive American to become Olympic All-Around Champion. Russia's Aliya Mustafina won the bronze.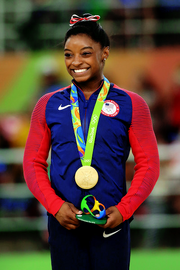 In the vault final, Biles competed last, scoring a 15.900 on her first vault and a 16.033 on her second, averaging out to a 15.966. She became the first American gymnast to win gold on vault at the Olympics, winning ahead of Russia's Maria Paseka and Switzerland's Giulia Steingruber. In the uneven bars final, Douglas competed second. She mirrored her performance in the uneven bars final in London four years ago, where she had an error on one of her pirouettes. It resulted in a form break, but she was able to continue her routine. She scored 15.066 and finished seventh. Kocian competed fourth, hitting her routine and sticking her dismount. She scored 15.833, less than a tenth behind the repeat-gold medalist, Aliya Mustafina, and won the silver over Germany's Sophie Scheder. In the balance beam final, Biles competed third. The routine started off well, but she was underrotated on her front tuck, causing her to grasp the beam to prevet a fall. She scored a 14.733.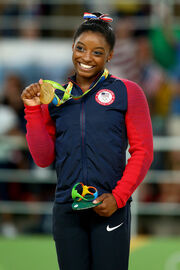 Hernandez competed sixth and hit her routine to score a 15.333. She won the silver and Biles' score was enough for her to win the bronze. Netherlands' Sanne Wevers won the gold. In the floor exercise final, Biles competed fifth and hit her routine to score 15.966. Raisman competed seventh and hit her routine as well to score 15.500. Biles won the gold and Raisman the silver over Great Britain's Amy Tinkler.
The Final Five are the most successful American women's team in Olympic history, winning nine out of ten medals that they qualified for. This was the first time the Americans won back-to-back Olympic team titles. Raisman and Douglas are the first two U.S. gymnasts to win two Olympic team gold medals, Biles is the first American to win four gold medals in a single Olympics, and ties with Shannon Miller and Nastia Liukin for the most medals won in a single Olympics: five.
Media Appearances
The team made numerous appearances on The Today Show during the Olympics. When they returned from Brazil, they appeared on The Tonight Show Starring Jimmy Fallon, where they played a human version of "Hungry Hungry Hippos". Biles and Raisman appeared on The Ellen DeGeneres Show in the second week of September. Raisman said in her interview that she would take some time off and resume training a year later to prepare for the next Olympics.
In late August, Hernandez was confirmed for the 23rd season of Dancing With the Stars.[1] Her professional partner was Val Chmerkovsky. She was crowned the winner on November 22, 2016, making her the youngest winner in the show's history. Following her win, she joined the show's professional dancers on the Dancing With the Stars Live! Tour from December 2016 to February 2017.
In early March, Biles was confirmed for the 24th season of Dancing With the Stars, partnering with Sasha Farber.[2] She was eliminated in fourth place on May 15th.
References
All items (11)
Community content is available under
CC-BY-SA
unless otherwise noted.