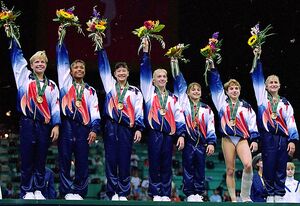 From left: Amanda Borden, Dominique Dawes, Amy Chow, Jaycie Phelps, Dominique Moceanu, Kerri Strug, and Shannon Miller.
These gymnasts were members of the USA gold medal-winning team at the 1996 Olympics in Atlanta. The team was named the Magnificent 7.
About the Team
Of this team, three gymnasts had competed at the 1992 Olympics in Barcelona: Shannon Miller, Dominique Dawes, and Kerri Strug. Amanda Borden had narrowly missed making the team in 1992, but kept training in hopes to go to Atlanta. Amy Chow almost didn't make the team after crashing on balance beam during the Olympic Trials, but got up and finished her routine, showing her persistence. Jaycie Phelps came from the same gym as Borden, and almost beat Miller at the 1996 US National Championships. Dominique Moceanu, the youngest member of the team, overshadowed everyone by becoming the youngest National Champion in 1995 at age 13. After that, all eyes were on her. Moceanu was born in the United States, but her parents were both Romanian. She was compared to Nadia in the press. Miller, Moceanu, Strug, and Phelps also competed at the 1995 World Championships in Sabae, Japan, where they won the team bronze medal behind Romania and China. Borden was named captain of the team.
Compulsory Round
The Americans competed in the compulsory round, which served as the preliminary round for the team final, in the third session, after Romania, Ukraine, and Belarus had competed. They began the competition on uneven bars, with Strug leading them off. They started off very strong, with each of their scores gradually getting higher: 9.675, 9.712, 9.725, 9.762, 9.762, and 9.775. Balance beam was an issue, as compulsory beam is the trickiest and can cause the most problems. The scores started low, 9.312, 9.350, and 9.425 for Borden, Strug, and Dawes, respectively. Then Phelps fell, scoring a 9.012. Since that was the lowest score, the Americans could drop it. Then Miller went up and did a near-perfect routine to score a 9.737, the highest score on compulsory beam in Atlanta. Moceanu went up last to score a 9.687. The Americans then rallied on floor exercise, with scores starting at 9.662 (Phelps), 9.687 (Dawes), and 9.712 (Borden), and going as high as 9.750 (Moceanu), 9.787 (Miller), and 9.825 (Strug). This was enough to take the lead away from Romania heading into the last rotation. The Americans continued their momentum on vault, with the scores ranging from 9.587 (Phelps), 9.662 (Moceanu), and 9.700 (Chow) to 9.725 (Dawes), 9.762 (Miller), and 9.812 (Strug). Dawes, Miller, and Strug were the only Americans to stick their compulsory vaults. They finished their subdivision in first place, but Russia competed in the following subdivision and took the lead from the Americans.
Optional Round
Having qualified second to the optional round, the Americans began their competition on uneven bars. Phelps led off the team on bars, scoring a 9.787 from the beginning, setting up the rest of the team to score even higher. Strug and Miller also scored 9.787, while Moceanu scored a 9.812, Chow a 9.837, and Dawes a 9.850. With their scores, the Americans took the lead away from Russia heading into the second rotation.
The Americans then went to balance beam, where they performed much better than they did in compulsories. Their scores ranged from 9.600 (Phelps) and 9.725 (Borden and Dawes) to 9.737 (Strug), 9.850 (Moceanu), and 9.862 (Miller). Miller would continue to score very high on beam throughout the rest of the competition in Atlanta.
The Americans moved to floor exercise. Phelps led off the team and scored a 9.750. Borden went up next and scored a 9.762. Moceanu, with her "Devil Went Down to Georgia" floor music, scored a 9.837. Dawes scored a 9.850. Then Miller stumbled on her opening tumbling pass and scored a 9.618, which the Americans dropped. Strug went up last and put up another big number, 9.837. The Americans maintained their lead over Russia.
"The Vault Heard Around the World"
The Americans would finish their competition on vault. Each gymnast was given two attempts, and the lowest score of the two was dropped. The lowest overall score for the Americans would also be dropped to let the high five scores stand.
Phelps went up first on vault and scored 9.637 and 9.662. Chow went up next and scored 9.630 and 9.712. Miller went next and scored 9.700 and 9.687. Dawes went next and scored 9.737 and 9.762. Then Moceanu, who was recovering from a stress fracture in her tibia, fell on both her vaults. To the pro-American crowd, it looked like the gold was slipping away. Moceanu was the "Chosen One". She was the one people compared to Nadia. She was expected to bring home gold and nothing else.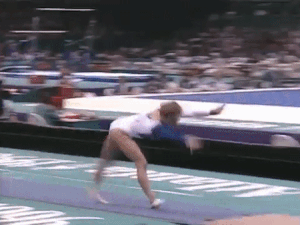 Strug was the last to go for the Americans. On her first vault, she underrotated and sat down. Walking back down the runway for her second vault, she was limping. Her coach, Bela Karolyi, told her to shake it off and that she could do it. She needed a high score to win the gold medal for the Americans. On her second vault, she landed on her feet, then quickly hopped onto her good leg and saluted the judges before collapsing on her knees in pain. She had to be carried off the podium. She scored a 9.712 and won the Americans their first team gold medal in Olympic history.
After the Team Final
Several members of the team qualified to multiple finals. Miller qualified to the all-around and balance beam finals. Dawes qualified to the all-around, vault, and uneven bars finals. Chow qualified to the uneven bars finals. Moceanu qualified to the balance beam and floor exercise event finals. Despite qualifying to the all-around, vault, and floor exercise finals, Strug was unable to compete due to the injury she sustained in the team final.
In the all-around, Strug was replaced by Moceanu. Moceanu started on balance beam while Dawes and Miller started on uneven bars. In the first rotation, Moceanu had a very large balance check on one of her skills, and was deducted down to a 9.600. Miller and Dawes both had very clean routines on the uneven bars. In the second rotation, Moceanu stepped out of bounds on floor exercise and scored a 9.687. Miller and Dawes continued to have clean routines. Heading into the third rotation, Dawes was in the lead and Miller was tied for second with Russia's Dina Kochetkova. Moceanu hit both of her 1½ twisting Yurchenko vaults, even sticking her second one. She averaged out to a 9.706. However, while Moceanu had some good fortune on vault, Miller and Dawes had the opposite on floor exercise. Miller again stumbled on her opening tumbling pass, then stepped out of bounds on her last tumbling pass. She scored a 9.475. Dawes then sat down her second tumbling pass and scored a 9.000. Both girls were in tears after their routines. All three of the girls had been knocked out of medal contention, but were still determined to go out on a high note. Miller and Dawes were on vault in their last rotation. Dawes averaged out to a 9.681 and Miller to a 9.724. Moceanu finished on uneven bars and scored a 9.762. Miller finished the all-around in 8th, Moceanu in 9th, and Dawes in 17th. Ukraine's Lilia Podkopayeva won the gold, and the three Romanians took the other medals, with Gina Gogen winning silver, and Lavinia Milosovici and Simona Amanar tying for the bronze.
In the vault final, Strug was replaced by Miller. Dawes vaulted first and averaged out to a 9.649. Miller vaulted later and fell on one of her vaults, averaging out to a 9.350. Dawes finished sixth and Miller finished eighth. Romania's Simona Amanar and Gina Gogean won gold and bronze, respectively, while China's Mo Huilan won the silver. In the uneven bars final, Dawes went up and scored a 9.800. Chow scored 9.837, tying her for the silver with China's Bi Wenjing behind Russia's Svetlana Khorkina. Dawes finished fourth. In the balance beam final, Moceanu went up second but crashed on her head during her flight series. She was still able to hold onto the beam and did not fall off it. She finished her routine and scored a 9.125. Miller, on the other hand, performed wonderfully, winning the gold medal ahead of Ukraine's Lilia Podkopayeva and Romania's Gina Gogean. In the floor exercise final, Strug was replaced by Dawes. Moceanu performed before Dawes and scored a 9.825. Dawes went after Moceanu and scored a 9.837. Moceanu finished fourth and Dawes won the bronze behind Ukraine's Lilia Podkopayeva and Romania's Simona Amanar.
The US wound up with four medals: two gold, one silver, and one bronze.
Olympic Team Champions

Netherlands • Germany • Czechoslovakia • USSR • USSR • USSR • USSR • USSR • USSR •

USSR

•

USSR

•

Romania

•

USSR

•

Unified Team

• USA • Romania • Romania • China • USA • USA • Russian Olympic Committee
All items (17)