Tokyo Central
This wikia focuses solely on women's artistic gymnastics (or WAG). It includes articles on Olympic and World Champions dating as far back as 1928. This wikia is kept up-to-date with ongoing national and international competitions.
This wikia is for elite gymnastics.
For information on the USA's JO program, click here.
For information on NCAA gymnastics, click here.
This Month's Competitions
MUST WATCH VIDEOS
Featured Gymnast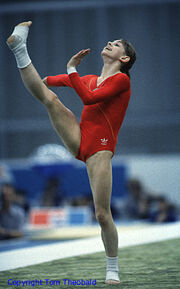 Oksana Alexandrovna Omelianchik
(Russian: Оксана Александровна Омельянчик; alternative transliterations:
Oksana Alieksandrovna Omiel'jantchik
;
Oksana Omeliantchik
;
Oksana Omelyanchik
) is a retired Soviet gymnast and the all-around gold medalist of the 1985 World Gymnastics Championships. A pioneer in back-to-back tumbling, Omelianchik was praised for her bright, inspired routines - earning the nickname "Birdie" - as well as her frolicsome personality and musical flow.
read more...
Featured Vault
Aline Friess - FRA - 2019 World Championships - QF
Featured Uneven Bars Routine
Wu Liufang - CHN - 2011 Chinese National Championships - TF
Featured Balance Beam Routine
Diana Varinska - UKR - 2018 Osijek World Cup - EF
Featured Floor Exercise Routine
Vanessa Ferrari - ITA - 2021 Doha World Cup - EF
Do you have a particular routine you want to be featured on the front page?
Check the Featured Articles Archive to see if it's already been up here. If it hasn't, leave a video link in the comments.
Helping out
To write a new article, just enter the title in the box below
This Month's Birthdays
Sign This Petition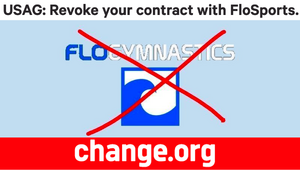 You can find the petition here.
Twitter

Follow us on Twitter
Blog Posts
Latest Blog Posts
GYMNASTICS SCANDAL ROUND-UP:
A member of the Department of Justice says that the FBI dragged their feet in investigating Nassar in 2015, and accused t…
See more >