This wikia focuses solely on women's artistic gymnastics (or WAG). It includes articles on Olympic and World Champions dating as far back as 1928. This wikia is kept up-to-date with ongoing national and international competitions.
This wikia is for elite gymnastics.
For information on the USA's JO program, click here.
For information on NCAA gymnastics, click here.
This Month's Competitions
MUST WATCH VIDEOS
Featured Gymnast
Lori Strong
(born 12 September 1972) is former Canadian elite gymnast. She represented Canada at the 1988 and 1992 Olympic Games, and is notable for her eponymous skill on the uneven bars (a swing forward with 1½ twists, worth an E in the current CoP).
read more...
Featured Vault
Rebeca Andrade - BRA - 2020 Olympics - AA
Featured Uneven Bars Routine
Huang Qiushuang - CHN - 2010 World Championships - QF
Featured Balance Beam Routine
Claire Martin - FRA - 2015 Elite Gym Massilia - AA
Featured Floor Exercise Routine
Aly Raisman - USA - 2016 Olympics - AA
Do you have a particular routine you want to be featured on the front page?
Check the Featured Articles Archive to see if it's already been up here. If it hasn't, leave a video link in the comments.
Helping out
To write a new article, just enter the title in the box below
Weekly Updates
Weekly Updates
Hungary has named their Worlds team:

Csenge Bacskay

Zsofia Kovacs
Zoja Szekely
Nikolett Szilagyi

Italy has named their Worlds team:

Desiree Carofiglio
Alice…
See more >
This Month's Birthdays
Sign This Petition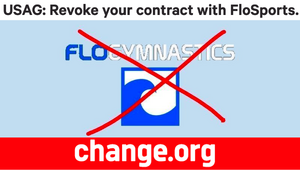 You can find the petition here.