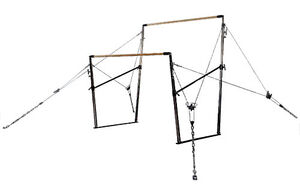 There are several different types of skills that are performed on uneven bars. The skill values are according to the 2017-2020 Code of Points.
All GIFs made by One Singular Sensation and Candycoateddoom.
Values
Each element is given a value, which represents how difficult it is. Values are represented as letters A-G, which correspond to how many tenths they're worth.
A = 0.1
B = 0.2
C = 0.3
D = 0.4
E = 0.5
F = 0.6
G = 0.7
Mounts
A-value
(worth 0.1)
| | |
| --- | --- |
| glide kip on low bar | |
| jump with half turn to kip on low bar | |
| glide kip on low bar with stoop through | |
| glide kip on low bar with straddle cut | |
| jump to kip on high bar | |
| straddle vault with hand repulsion to high bar | |
B-value
(worth 0.2)
| | |
| --- | --- |
| jump with full turn to kip on low bar | |
| jump with half turn to kip on high bar | |
| jump with half turn over low bar to hang on high bar | |
| free straddle jump over low bar to high bar | |
| hecht jump with hand repulsion to high bar | |
| front salto to hang on low bar | |
| round-off, straddle flight to low bar | |
| jump with bent hips to handstand | |
| jump with bent hips to handstand, half turn | |
| reverse kip with stoop through on low bar | |
| salto forward over low bar to L-grip hang | |
C-value
(worth 0.3)
| | |
| --- | --- |
| free jump with half turn over low bar to kip on high bar | |
| roll forward with hand repulsion to hang on high bar | |
| salto forward to hang on high bar | |
| round-off, flight over low bar to hang on high bar | |
| jump with extended body to handstand | |
| jump with extended body to handstand, half turn | |
| free hecht over low bar with legs together (Makhaustova) | |
D-value
(worth 0.4)
| | |
| --- | --- |
| front salto over low bar to hang on high bar | |
| round-off, tucked back salto over low bar to hang (Jentsch) | |
| jump with extended body to handstand, full turn (Maaranen) | |
| jump to clear support, clear hip circle | |
| jump to clear support, clear hip circle with half turn (McNamara) | |
| round-off, flic flac through handstand on low bar (Gonzalez) | |
| hecht mount with full turn with repulsion off the low bar (Gebeshian) | |
E-value
(worth 0.5)
| | |
| --- | --- |
| round-off, flic flac with full turn to handstand on low bar (Gurova) | |
F-value
(worth 0.6)
| | |
| --- | --- |
| round-off, tucked salto over low bar to hang on high bar | |
G-value
(worth 0.7)
| | |
| --- | --- |
| round-off, Arabian salto over low bar to hang on high bar | |
Pirouettes
A-value
(worth 0.1)
| | |
| --- | --- |
| kip cast to handstand | |
| seat circle forward | |
| seat circle backward | |
B-value
(worth 0.2)
| | |
| --- | --- |
| backward giant | |
| backward giant with straddled legs | |
| backward giant on one arm (Liu) | |
| backward giant with half turn to regular grip | |
| backward giant with half turn to reverse or L-grip | |
| forward giant in reverse grip | |
| forward giant in regular grip | |
| forward giant in reverse grip with half turn | |
| Stalder swing | |
C-value
(worth 0.3)
| | |
| --- | --- |
| backward giant with full turn | |
| forward giant in reverse grip with full turn to regular grip | |
| forward giant in reverse grip with full turn to reverse grip | |
| forward giant in L-grip | |
| forward giant in L-grip with piked body | |
| forward giant in L-grip with half turn | |
| Stalder backwards to handstand | |
| Stalder backwards with half turn to regular grip | |
| Stalder backwards with half turn to reverse/ L-grip | |
| Stalder forward to handstand (Endo) | |
| Endo with half turn | |
| pike sole circle backwards to handstand | |
| pike sole circle backwards with half turn to reverse/ L-grip | |
| pike sole circle forwards with half turn to regular grip | |
| clear hip circle | |
| clear hip circle with half turn to regular grip | |
| clear hip circle with half turn to reverse/ L-grip | |
D-value
(worth 0.4)
| | |
| --- | --- |
| clear hip circle with full turn | |
| backward giant with 1½ turn to regular grip | |
| backward giant with 1½ turn to reverse grip | |
| backward giant with double turn | |
| forward giant in L-grip with full turn | |
| Stalder backwards with full turn (Frederick) | |
| Endo with full turn | |
| Endo in L-grip | |
| Endo in L-grip with half turn (White) | |
| piked Stalder | |
| piked Stalder with half turn to regular grip | |
| piked Stalder with half turn to reverse/ L-grip | |
| piked Stalder to rear inverted pike support | |
| clear hip circle forward to handstand (Weiler) | |
| pike sole circle with full turn | |
| pike sole circle forward with full turn (Hoefnagel) | |
| giant swing backwards with hop full turn (Chusovitina) | |
| Weiler kip with half turn to regular grip | |
| piked Endo | |
| piked Endo with half turn | |
E-value
(worth 0.5)
| | |
| --- | --- |
| forward giant in reverse grip with full turn on one arm (Healy) | |
| forward giant in reverse grip with 1½ turn on one arm (Healy 1½) | |
| forward giant in L-grip with full turn on one arm (Ono/ Bi) | |
| forward giant in L-grip with 1½ turn on one arm (Ono 1½) | |
| Stalder backwards with 1½ turn (Khorkina/ Chow) | |
| Endo in L-grip with full turn | |
| piked Stalder with full turn | |
| pike sole circle with 1½ turn (Lucke) | |
| piked Stalder with 1½ turn | |
| Endo in L-grip with full turn on one arm (Huang) | |
| jam to handstand (Luo) | |
| forward inverted giant, full turn to inverted grip (Ling) | |
| forward inverted giant, 1½ turn to regular grip | |
Release Moves
B-value
(worth 0.2)
| | |
| --- | --- |
| free straddle over high bar with half turn | |
| from front support, stoop vault with half turn over high bar | |
C-value
(worth 0.3)
| | |
| --- | --- |
| hip circle hecht with half turn to recatch the same bar | |
| from front support, swing backward release and full turn | |
| clear hip circle to flight with half turn | |
| tucked Jaeger | |
| swing backwards with free stoop with half turn over high bar (Wenning) | |
| swing backwards with straddle flight over low bar to L-hang | |
| vault with half turn in flight over high bar | |
D-value
(worth 0.4)
| | |
| --- | --- |
| straddled Tkatchev | |
| straddled Deltchev | |
| piked Geinger | |
| one-arm piked Geinger | |
| swing forward to straddle-piked salto backwards with half turn (Liu) | |
| straddled Jaeger | |
| swing backwards with half turn and straddle flight over high bar (Markelov/ Khorkina) | |
| clear rear pike support, full circle backwards with counter straddle (Li Li) | |
| swing forward with half turn pike vault over high bar (Monckton) | |
E-value
(worth 0.5)
| | |
| --- | --- |
| piked Jaeger | |
| layout Geinger | |
| swing forward with half turn, further half turn to counter straddle (Shushunova) | |
| cast with salto forward straddled (Comăneci) | |
| clear hip circle, counter straddle over high bar (Hindorff) | |
| piked Tkatchev | |
| straddled Jaeger half (Li Ya) | |
| Stalder backwards with counter reverse hecht over high bar (Ricna) | |
| pike sole circle backward, counter straddle reverse hecht (Ray) | |
| pike sole circle backward, counter piked reverse hecht (Church) | |
| straddled Tkatchev with half turn (Kononeko) | |
| pike Stalder, counter straddle reverse hecht (Galante) | |
F-value
(worth 0.6)
| | |
| --- | --- |
| layout Jaeger | |
| swing forward with counter salto forward straddled (counter-Kim) | |
| underswing with support of feet, counter salto forward straddled (toe-on Marinich) | |
| pike sole circle backward, counter straddle reverse hecht with half turn (Tweddle) | |
| Stalder to piked reverse hecht over high bar (Downie) | |
| clear hip circle, counter pike over high bar (Shang) | |
| pike Stalder, counter pike over high bar | |
| Stalder backwards with half turn with counter reverse hecht over high bar (Derwael-Fenton) | |
| clear hip circle, counter straddle over high bar with half turn (Martins) | |
G-value
(worth 0.7)
| | |
| --- | --- |
| swing forward to layout salto with 1½ turn (Def/ Hristakieva) | |
| swing backwards with salto forward tucked over high bar (Gaylord/ Mo) | |
| toe-on to layout reverse hecht over high bar (Nabieva) | |
Transitions
B-value
(worth 0.2)
| | |
| --- | --- |
| Stalder with grip change to hang on low bar | |
| toe-on release with counter movement to high bar | |
| toe-on release with half turn, counter movement to high bar | |
| clear hip release with counter movement to high bar | |
| Stalder release with counter movement to high bar (Ray) | |
C-value
(worth 0.3)
| | |
| --- | --- |
| clear hip hecht | |
| clear hip hecht with half turn | |
| from handstand on low bar, hecht to high bar (Delladio) | |
| swing forward to tuck roll backwards to low bar | |
| swing forward to straddle roll backwards to low bar | |
| swing backwards to straddle flight to handstand | |
| Stalder hecht | |
| pike Stalder release with counter movement to high bar | |
| pike Stalder hecht | |
| stoop through with half turn in to catch low bar (Alt) | |
D-value
(worth 0.4)
| | |
| --- | --- |
| cast with salto roll forward to hang on high bar | |
| clear hip with flight backwards to high bar (Shaposhnikova) | |
| swing forward with half turn to handstand on low bar | |
| swing forward to straight salto backwards to low bar (Pak) | |
| swing backwards to half turning flight to low bar (Ezhova) | |
| Stalder with flight forward to handstand on high bar | |
| Stalder with flight backward to high bar | |
| circle swing to straight salto backwards between bars (Teza) | |
| circle swing to handstand on low bar | |
| underswing with flight backwards to handstand (Zuchold) | |
| stoop through with flight backwards to handstand | |
| toe-on release with flight backwards to high bar (Maloney) | |
| hang on high bar, swing forward with half turn to flight to handstand with half turn to handstand on low bar (Hernandez) | |
E-value
(worth 0.5)
| | |
| --- | --- |
| Shaposhnikova with half turn (Khorkina) | |
| swing forward with 1½ turn to low bar (Strong) | |
| Pak with full turn (Bhardwaj) | |
| Maloney with half turn (Van Leeuwen) | |
| pike Stalder with half turning flight to high bar (Komova) | |
| pike Stalder with flight to high bar (Komova II) | |
| toe-on circle with full turn in flight to high bar (Seitz) | |
| Stalder with flight backward to high bar with half turn | |
Dismounts
A-value
(worth 0.1)
| | |
| --- | --- |
| salto backwards tucked | |
| salto backwards straight | |
| salto forward straight | |
B-value
(worth 0.2)
| | |
| --- | --- |
| underswing with front tuck salto | |
| underswing with front pike salto | |
| salto backwards straight with full twist | |
| double salto backwards tucked | |
| salto forward straight with half turn | |
| salto forward straight with 1½ turn | |
| hip circle hecht | |
| clear hip hecht | |
C-value
(worth 0.3)
| | |
| --- | --- |
| underswing with half turn to back tuck salto (Comăneci) | |
| underswing front tuck salto with half turn | |
| underswing front pike salto with half turn | |
| underswing front tuck salto with full turn | |
| clear hip to front tuck salto with half turn | |
| salto backwards straight with double twist | |
| double salto backwards piked | |
| on high bar, salto backwards tucked | |
| hip circle hecht with full twist | |
| Stalder to front tuck salto with half turn (Alt II) | |
D-value
(worth 0.4)
| | |
| --- | --- |
| underswing front tuck salto with 1½ turn | |
| clear pike circle to salto forward straight with half turn (Brunner) | |
| clear hip with half turn to salto backwards straight (Okino) | |
| underswing with half turn to salto backwards tucked with full turn (Kraker) | |
| salto backwards straight with 2½ twist | |
| double salto backwards tucked with full twist | |
| double salto backwards piked with full twist | |
| salto backwards straight with half turn into salto forward piked with half turn (Varga) | |
| double salto backwards straight | |
| salto backwards tucked with half turn into salto forward tucked (Fontaine) | |
| swing forward with half turn to double salto forward tucked | |
| double salto forward tucked (Mercer) | |
| hip circle hecht with salto backwards tucked (Mukhina) | |
| pike sole circle backwards to salto backwards straight with half twist (Moors) | |
| from L-grip, half turn into double salto backwards tucked (Fan) | |
| Stalder to salto forward tucked with full twist (Petz) | |
E-value
(worth 0.5)
| | |
| --- | --- |
| double salto forward tucked with half twist into salto backwards tucked (Arai) | |
| double salto forward tucked with half twist out | |
| salto backwards straight with triple twist (Bar) | |
| double salto backwards straight with full twist | |
| swing forward with half turn to double salto forward piked (Li Ya) | |
| hip circle hecht with half turn to salto forwards | |
| double back salto tucked with 1½ twist (Mustafina) | |
F-value
(worth 0.6)
| | |
| --- | --- |
| double salto backwards tucked with double twist (Fabrichnova) | |
| hip circle hecht with full turn to salto backwards (Ma) | |
G-value
(worth 0.7)
| | |
| --- | --- |
| double salto backwards straight with double twist (Ray) | |
| triple salto backwards tucked (Magana) | |