Vanda Hădărean



Country represented

Romania

Born

May 3 1976 (1976-05-03) (age 45)
Cluj-Napoca, Romania

Coach(es)

Octavian Bellu
Mariana Bitang

Current status

Retired
Vanda Hădărean (b. May 3, 1976 in Cluj-Napoca) is a retired Romanian artistic gymnast who represented Romania at the 1991 Indianapolis World Championships and the 1992 Barcelona Summer Olympics.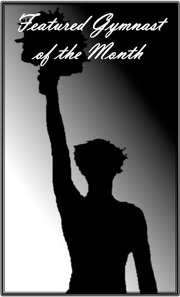 Early Life and Career
Hădărean started gymnastics when she was 5 years old after a local coach saw her playing at a park and thought she had talent and potential. When she was 13 years old she moved to Onesti to train as a member of the junior national team. While she was a junior, Hădărean won the all-around and uneven bars gold medals at the 1991 Junior European Championships. 
Senior Career
Hădărean was selected to compete at the 1991 World Championships in Indianapolis. Here she helped the Romanian team win a bronze medal in the team competition behind the Soviet Union and the United States. In 1992 Hădărean competed at the European Championships and won an individual bronze medal in the all-around behind Tatiana Gutsu and her teammate Gina Gogean. She also advanced to the the uneven bars and floor exercise finals but did not medal. Later in the year Hădărean made the Romanian Olympic team. She helped the team win a silver medal in the team competition. Despite placing 11th in the all-around during qualifications Hădărean did not advance to the all-around because of the then three-per-country rule. She did not advance to any other individual finals. Hădărean retired from elite gymnastics in 1994. 
Post Retirement
After retiring from gymnastics, she briefly attended a sports university. Hădărean took a coaching position iat Mountain Star Gymnastics in Hamilton, Ontario, Canada. She later moved to Texas where she coached at Moceanu Gymnastics and then briefly to South Carolina to coach at Golden Strip Gymnastics. Hădărean moved back to Romania and started working at an aerobics company in her hometown of Cluj-Napoca. In 2000 she returned to Mountain Star Gymnastics and then in 2001 moved to coach in Ottawa. In 2005 she made her debut as a fitness competitor and went on to win numerous titles including four-consecutive Ms. World Fitness titles. 
Medal Count
Floor Music
1991 - "Carmen Suite" by Bizet and "Concierto di Aranjuez"