Yang Yilin

Yang at the 2008 Olympic Games

Country represented

China

Born

August 26 1992 (1992-08-26) (age 29)
Huadu, Guangzhou, Guangdong, China

Years on National Team

2007-2010

Coach(es)

Lu Shanzhen & Liu Qunlin

Current status

Retired
Yang Yilin (born August 26, 1992 in Huadu, Guangzhou, Guangdong) is a Chinese gymnast. She is the 2008 Olympic all-around bronze medalist, Olympic Uneven bars bronze medalist and a member of the gold medal winning Chinese Olympics gymnastics team. Yang was also the 2007 World Championships bronze medalist on the uneven bars. She is best remembered for her elegance.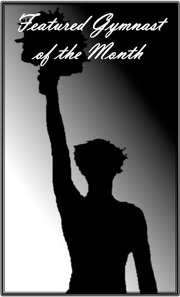 Gymnastics Career
In 2007, Yang was a member of the Chinese team for the World Championships. She won two medals: a silver with the Chinese team, and an individual bronze on the uneven bars. She also placed sixth all-around. Yang was also the all-around gold medalist at the 2007 Intercity Games, a national multi-sport event for teenagers aged 13 to 15 in China. In the spring of 2008, she led the Guangdong team to gold at Chinese National Championships and claimed individual medals in the all-around, uneven bars, and floor exercise.
At the 2008 Olympic Games in Beijing, Yang won the bronze medal in the individual all-around final with a score of 62.650, a bronze in the uneven bars event final and contributed marks (15.100 on vault and 16.800 on uneven bars) towards the gold medal in the team competition.
In 2009 and 2010, Yang represented China to participate in World Championships. She won bronze medal within team in 2010. She retired after the 2012 Olympics and became a cheerleader for her university team.
Medal Count
Floor Music
2008 - "Bolero" from Moulin Rouge!
2009 - "Sarasate: Zigeunerweisen, Op.20 - Moderato - Lento - Un peu plus lent - Allegro molto vivace" by the London Symphony Orchestra
2010 - "Laguna Guitarra" by Agua Loca